Wake: Transforming Mental Wellness Through Innovative Technology
Expertise
Strategy
Product Management
Engineering
Design
Products
Android App
Apple App
Web Admin
About the Company
Health & Wellness
Pre-Seed
The Intersection of Tech and
Wellness
Imagine a world where technology seamlessly intertwines with our pursuit of mental wellness. That's exactly what Marcelo Planchart, the founder of Wake, envisioned. His mission was to create a platform that would empower individuals to take control of their mental health journey, offering daily content and programs that nurture well-being and facilitate personal growth. Driven by his passion for well-being, Planchart sought out an experienced product development team to transform his vision into a reality. Enter, Nolte.
Nolte was approached by Planchart to assist in the creation of this digital product and develop a go-to-market strategy with an emphasis on a rapid time to market. Our CEO, Jeffery Nolte, deeply impressed by the product's potential, became an investor and solidified the partnership. Leveraging our expertise in business strategy and tech solution development, the Nolte team guided Planchart and his team through every crucial phase, from product discovery to delivery, refining their vision and creating market-ready tools. Within 4 months, we launched Wake.
Wake offers two interconnected products that revolutionize the way we approach mental health. The Wake mobile application is a dedicated platform designed to enhance users' mental well-being, providing comprehensive content and programs to manage stress, improve focus and creativity, and strengthen personal and professional relationships. Alongside this, Wake offers a robust web-based dashboard tailored for HR managers, enabling them to provide employees with access to the app as a benefit, while also monitoring and fostering team mental health.
From Vision to Reality: Shaping Wake
Wake was assigned a dedicated team of two software engineers, a product designer, a brand and marketing positioning specialist, and a product manager, leveraging our expertise in product development to bring Planchart's vision to life. We embarked on a co-creation model designed to achieve product-market fit, using an agile methodology with shorter feedback rounds, more founder visibility and early-stage adaptability, allowing us to launch quickly and iterate rapidly.
Our process encompassed three key phases: strategy, launching, and evolution. Through each phase, we worked hand in hand, aligning Wake's objectives with strategic organizational goals and vision.
1. Strategy
During this initial phase, we conducted thorough market analysis, competitor mapping, and benchmarking to understand the landscape of wellness and meditation apps. This analysis helped identify key competitors, their strengths and weaknesses, pricing models, distribution channels, and UI/UX best practices. Additionally, we facilitated brand positioning analysis, defining Wake's brand territory and value proposition. Interviews with potential users provided valuable insights, and quantitative research helped define the target audience's demographic profile. The process also involved creating customer profiles based on Personas and Proto Personas. We collaborated with Wake to define the product direction, incorporating UI best practices, fonts, and colors. The technology stack was carefully chosen, considering code quality, lean architecture, and future scalability. Finally, a proposed solution was presented to launch an MVP quickly, and an agile methodology was adopted with a predefined implementation backlog.
2. Development of the Mobile App
Our team worked closely with Wake throughout the development process, and utilized their seasoned expertise in mobile app development, ensuring code quality and adhering to the predefined technology stack. The development phase involved tech setup, UI/UX design, implementation of features and functionalities, rigorous testing, and iterative refinements, while maintaining open communication and short feedback cycles with Planchart and the Wake team to ensure the app continued to align with their vision. The development timeline spanned three months, encompassing the entire development cycle from tech setup to the app's launch in app stores.
Establishing one source of design truth

3. Development of the Web Dashboard
Building on the success of the mobile app, Nolte and Wake identified the opportunity to evolve the product and expand into the corporate wellness space. Our team developed a web-based dashboard specifically tailored for HR managers, enabling them to manage employee access, track utilization, and gain insights into employee well-being. The web dashboard was designed to align with HR professionals' tools and workflow patterns, offering enhanced control, integrations, and accessibility across devices. The development process for the web dashboard followed a similar trajectory to that of the mobile app, from tech setup to launch.
Tech Stack: Typescript, NestJs, Next Js,Tailwind
4. Validation and Go-to-Market
With the mobile app and web dashboard developed and refined, we were ready to validate Wake's solutions and enter the market. The MVP launch of the mobile app allowed Wake to gather real-time data on user engagement, preferences, and overall usage. This data-driven approach facilitated continuous improvement and informed the backlog for future feature enhancements. Meanwhile, the web-based dashboard provided HR managers with a streamlined platform to monitor and promote employee wellness, showcasing the viability of Wake's B2B2C model. The successful validation and go-to-market phase marked a significant milestone in Wake's journey toward becoming a leader in tech-based wellness solutions.
From MVP to Market Success: Milestones + Growth
Through the rapid introduction of the mobile app, Wake gathered real-time data on user engagement, preferences, and overall usage. The subsequent launch of the web-based HR dashboard solidified the viability of Wake's B2B2C business model. Together, these products establish Wake as a comprehensive wellness solution provider.
Additionally, the web-based HR dashboard redefines the employee benefits landscape, facilitating data-driven decisions and enabling strategic alliances. With its data-rich insights arriving in real-time, we are working with Wake to refine their backlog, expand features, and foster partnerships, ultimately strengthening their position as a leader in tech-based wellness solutions.
Nolte and Wake's Successful
Collaboration
Our partnership was instrumental in guiding Wake from the initial strategy phase through the development and launch of their mobile app and web dashboard. The collaborative efforts and technical expertise provided by our software engineers, product designers, brand specialists, and product managers ensured a successful product launch. The process showcased our ability to deliver a specific result—an MVP within a condensed timeline—while also emphasizing their commitment to continuous improvement and aligning the product with strategic objectives. By choosing to partner with Nolte, Planchart and the Wake team was able to realize their vision, create market-ready products, and pave the way for future growth in the dynamic field of mental wellness solutions.
"We are so proud of what we have built together, Nolte's tireless efforts have helped us achieve a huge milestone. Their commitment to excellence is evident in every aspect of the app. We couldn't have done it without them"

Marcelo Planchart

Founder at Wake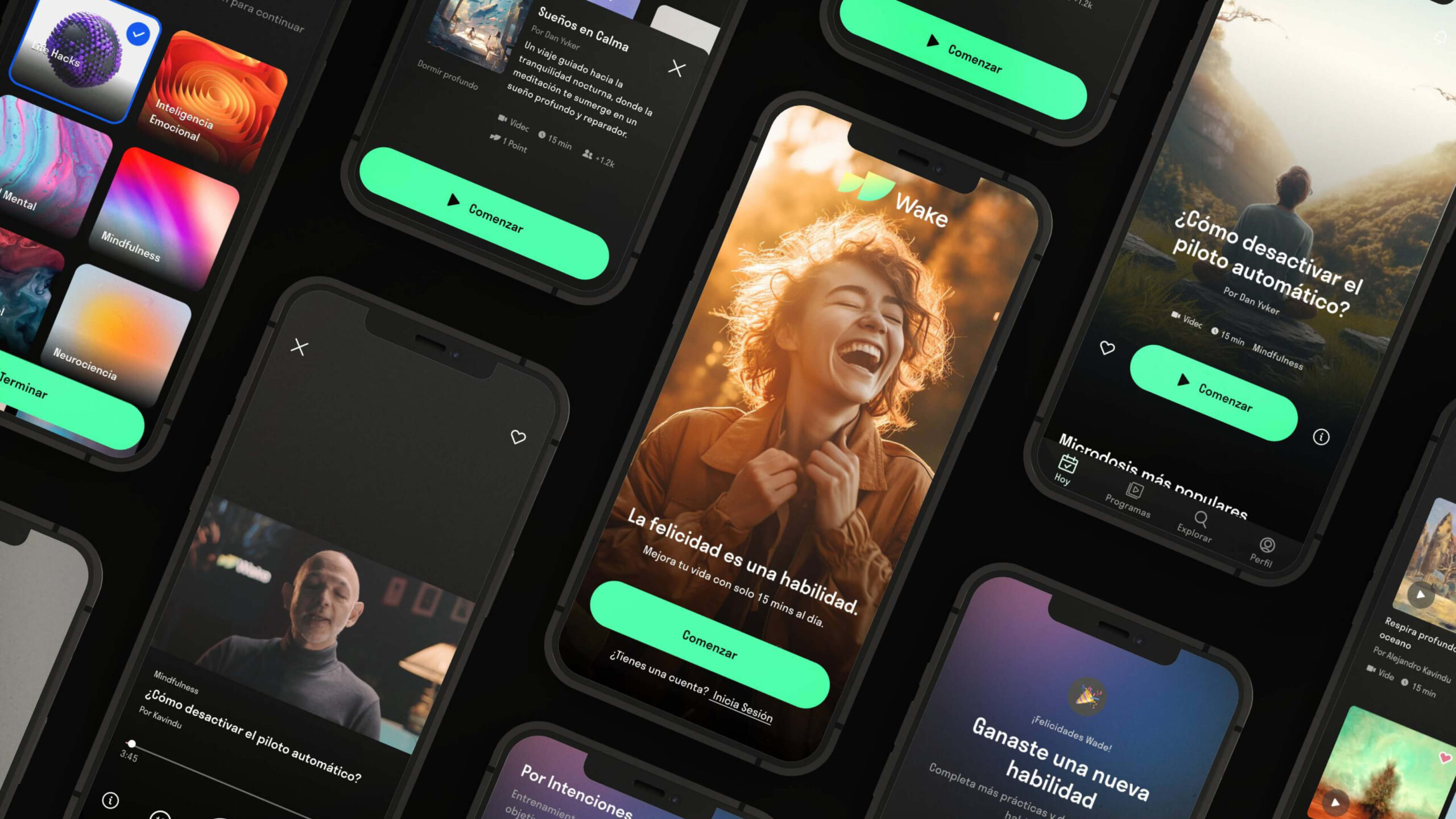 Together we launch!
Your success is our success. We are on a mission to help generate $700B in valuations for Nolte portfolio companies by 2030.
There's one thing we ask, though. We have to share a brain and heart. From wins and failures, we have learned that ethos determines collaboration success. So we have crafted ours and expect our partnerships to live up to it.
In return, we help you launch, grow and scale with peace of mind.
Austin Texas
2021 Guadalupe St #260
Austin, TX 78705
---
Mexico City
Amsterdam 255 #217
Hipódromo Condesa,
Cuauthémoc, 06100 CDMX