Meet Jules: Harnessing Technology in the Fight Against Climate Change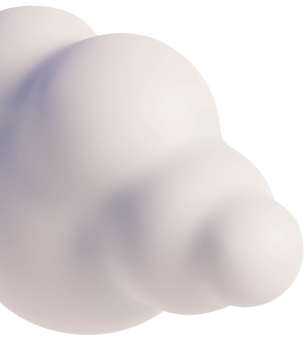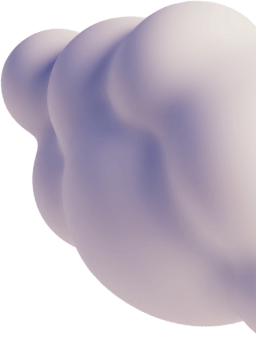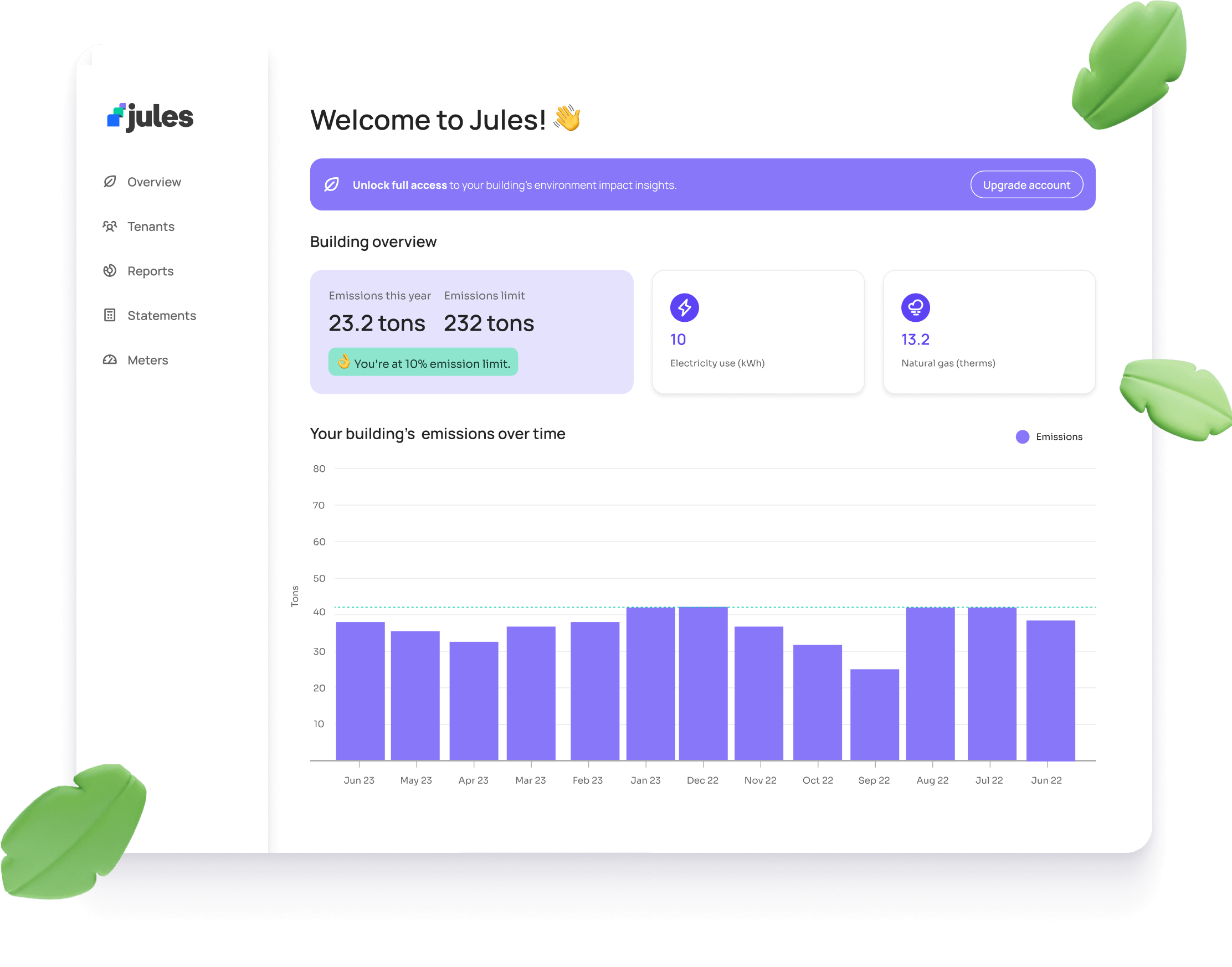 Expertise
Strategy
Product Management
Engineering
Design
About the Company
SaaS platform
Climate Tech
In a world increasingly concerned about climate change, the quest for sustainable solutions often rests upon the shoulders of individual action and corporate responsibility. It was during a deep discussion on this topic that Assad Aboultaif and Jeffrey Nolte found themselves at a crossroads. Both felt the looming anxiety of climate change and were frustrated by the seemingly limited options to make a real impact. As seasoned startup founders and product developers, they had the resources to build a valuable tool for climate action – but what could they build that would truly meet the needs of a market?
Assad and Nolte's entreprenuership journey began with an ambitious goal: to build a tool that would help fight climate change. As they delved deeper into the topic, a solution emerged, yet their path to success was non-linear. Here's a look into the creation and evolution of Jules.
Building Jules for Consumer & Employer Action
Strategic Explorations
The first product Assad and Nolte strategized was a consumer focused platform. Meet Jules 1.0 empowered individuals with a personalized journey to understand and reduce their carbon emissions, while offsetting unavoidable emissions. The initial version of Jules was a hit on Product Hunt, earning the coveted Product of The Day. Armed with this success, and to encourage widespread adoption of Jules, Assad and Nolte refined the tool towards climate action specifically within the employer market. Research showed that despite the increasing demand from employees for stronger climate change initiatives, employers often struggled to keep up, hindering talent retention and engagement.
Market research painted a clear picture of this gap. A staggering 81% of employers recognized the importance of weaving a climate strategy into their employee value proposition, while 33% believed in tying employee compensation to this strategy. On the flip side, 70% of millennials prioritized working in companies with robust sustainability agendas. Yet, a majority felt unsupported in contributing to such goals, yearning for training and tools.
Understanding the inherent value propositions and trends that employees craved, such as engagement, sustainability, brand loyalty, and more, Aboultaif and Nolte positioned Jules as a web and mobile employee benefits platform to support business' internal sustainability and climate change initiatives.
Jules aimed to be the first employer-sponsored climate benefits platform that provides employees with a personalized journey to understand and reduce their emissions while offsetting unavoidable emissions.
The First Product Development Journey
Discovery
With a strategy in place, Nolte's team of product developers, engineers, designers and managers gathered early-stage concepts, discussion guidelines, and a variety of wireframe designs. Through our online meetings and status updates, we jointly delved into and fine-tuned multiple approaches.
Subsequently, we started drafting illustrations and defining the initial routes a user might take, offering us a clearer perspective on how interactions within the app could unfold.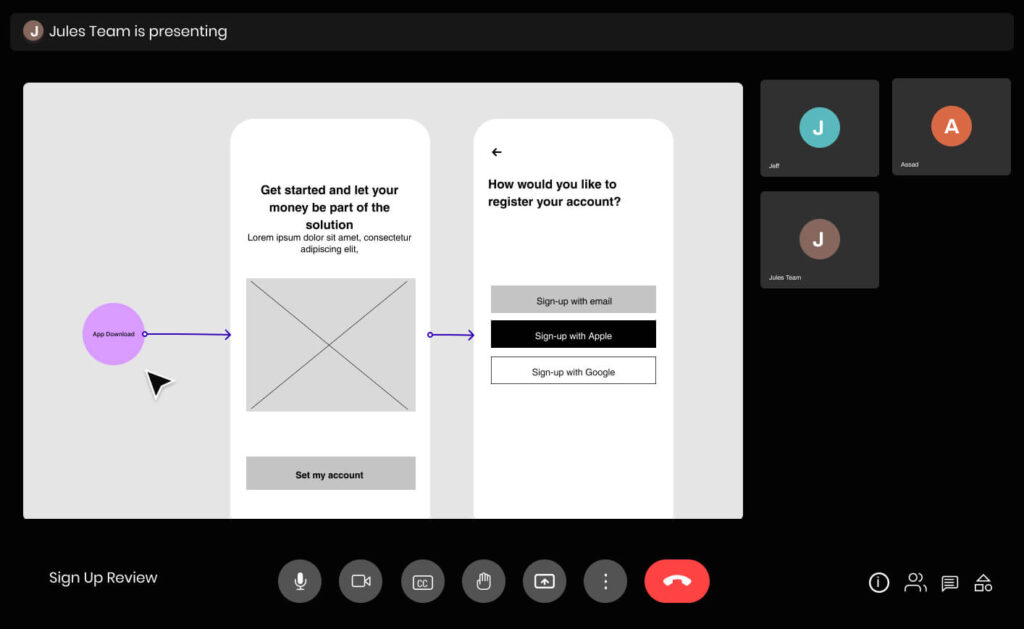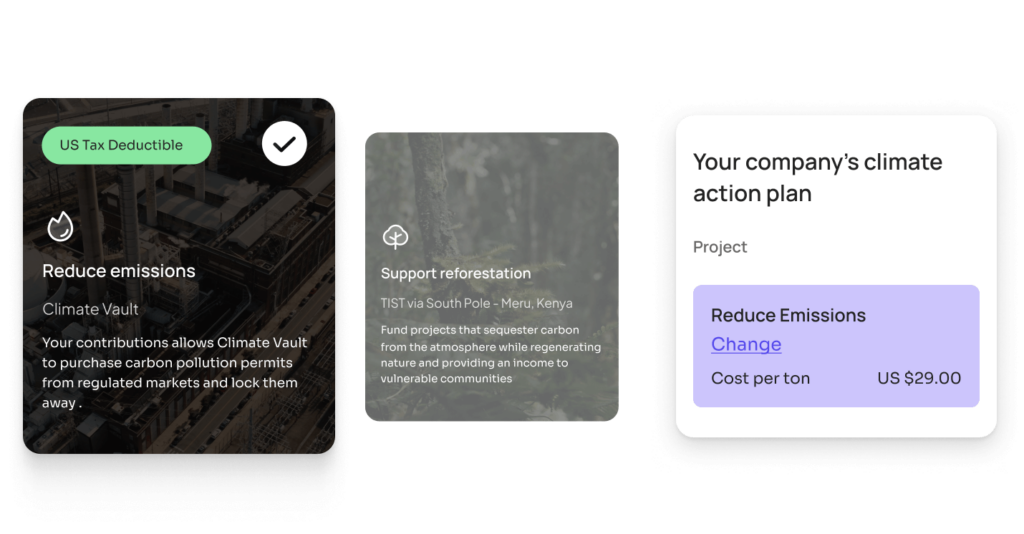 Our development incorporated user-research, with a focus on:
Empowering users to mitigate their environmental impact, without the need to link a bank account.
Incorporating recurrent offsetting, rather than a one-time contribution.
Simplifying user choice by organizing offsetting projects by category, allowing individuals to select their favored project easily.
The development of the platform also incorporated the needs of the end-user, allowing employers to customize the tool for their teams. The resulting tool allowed for:
Employer Engagement: Employers could select the climate engagement plan best suited for their teams.
Employee Empowerment: Employees assessed their carbon footprint, interacted with peers, and earned rewards for emission reduction.
Progress Tracking: A dedicated dashboard allowed employers to monitor and celebrate their collective progress.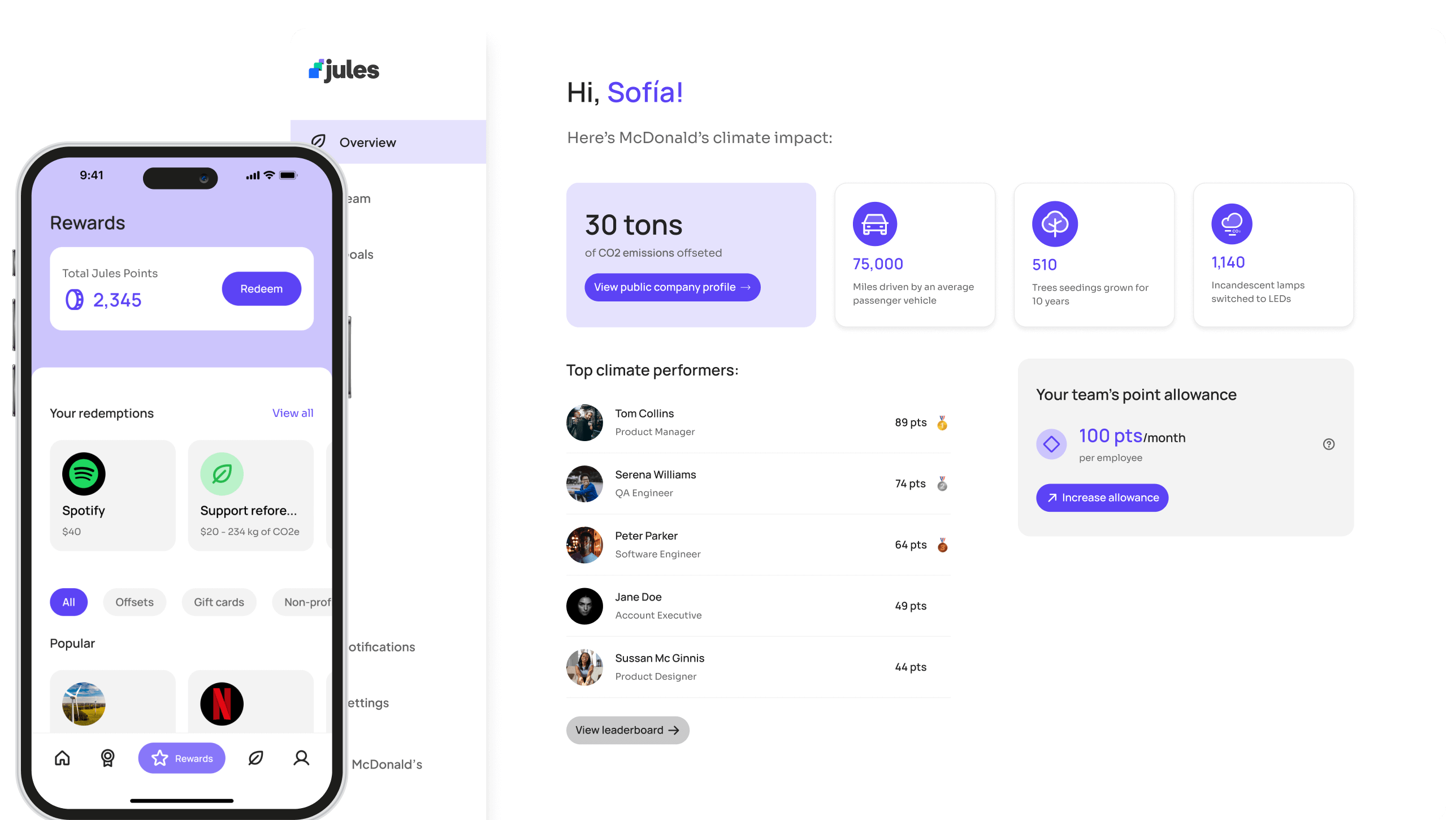 With its dual focus on reducing emissions and fostering engagement, Jules addressed the urgent issue of climate change and resonated with the growing demand for workplaces that prioritize sustainability. The initiative epitomized how innovation and insight can transform concerns into actionable solutions, paving the way for a greener, more inclusive future.
Pivoting to Unlock Sustainability in Real Estate Management
Despite the initial promise of the employee benefits platform, Assad and Nolte soon recognized challenges in achieving their desired outcomes. A widespread shift of business priorities emerged, due to the emergence of widespread remote work and reductions in force. As the state of employee benefits changed, so did Jules.
With a high quality product in hand, an unwavering commitment and an even deeper understanding of the market, Assad and Nolte decided to pivot their product to solve a new problem. They explored the market for an alternate, higher impact use-case for a digital climate-tech platform, and discovered a pressing need for carbon-offset technical support in the real estate sector.
Reimagining Jules for Real Estate
A New Problem to Solve
Diving deeper into problem exploration, Assad and Nolte uncovered an additional, yet more impactful, purpose for Jules 2.0. Within the real estate market, carbon emissions, particularly in metropolitan settings, have long been a challenge. Buildings contribute to about 40% of US greenhouse gas emissions and local governments have been introducing new legislation to monitor and cut down these emissions, such as:
NYC's Local Law 97: Buildings >25,000 square feet must report emissions and may face fines for exceeding limits.
Boston's BERDO: Large buildings must reveal and slash their emissions by 2050.
DC's BEPS: An efficiency benchmark for buildings, requiring performance improvements over set periods.
Market research uncovered that property managers, admins, and renters grapple with the complexities of tracking and reporting emissions, not to mention the daunting penalties for non-compliance with evolving regulations like Local Law 97. Property managers/owners needed help measuring building emissions and enacting reductions. As the existing platform was already built to identify the volume of carbon emissions and support reductions, we set out to tweak the existing Jules product to address this new market's needs.
How We Adapted Jules 1.0 into Jules 2.0
Strategy Phase: Building Blocks to a New Vision
In the ever-evolving landscape of digital solutions, adaptability can often be the key to success. Recognizing the limitations of his initial carbon footprint product, we pivoted our focus towards addressing a broader climate issue through a more market-aligned digital solution. As we scoured the landscape for impactful opportunities, the real estate sector's need for simplified emissions reporting emerged as a promising avenue. We re-envisioned a platform that would provide essential emissions reports to real estate entities and family buildings.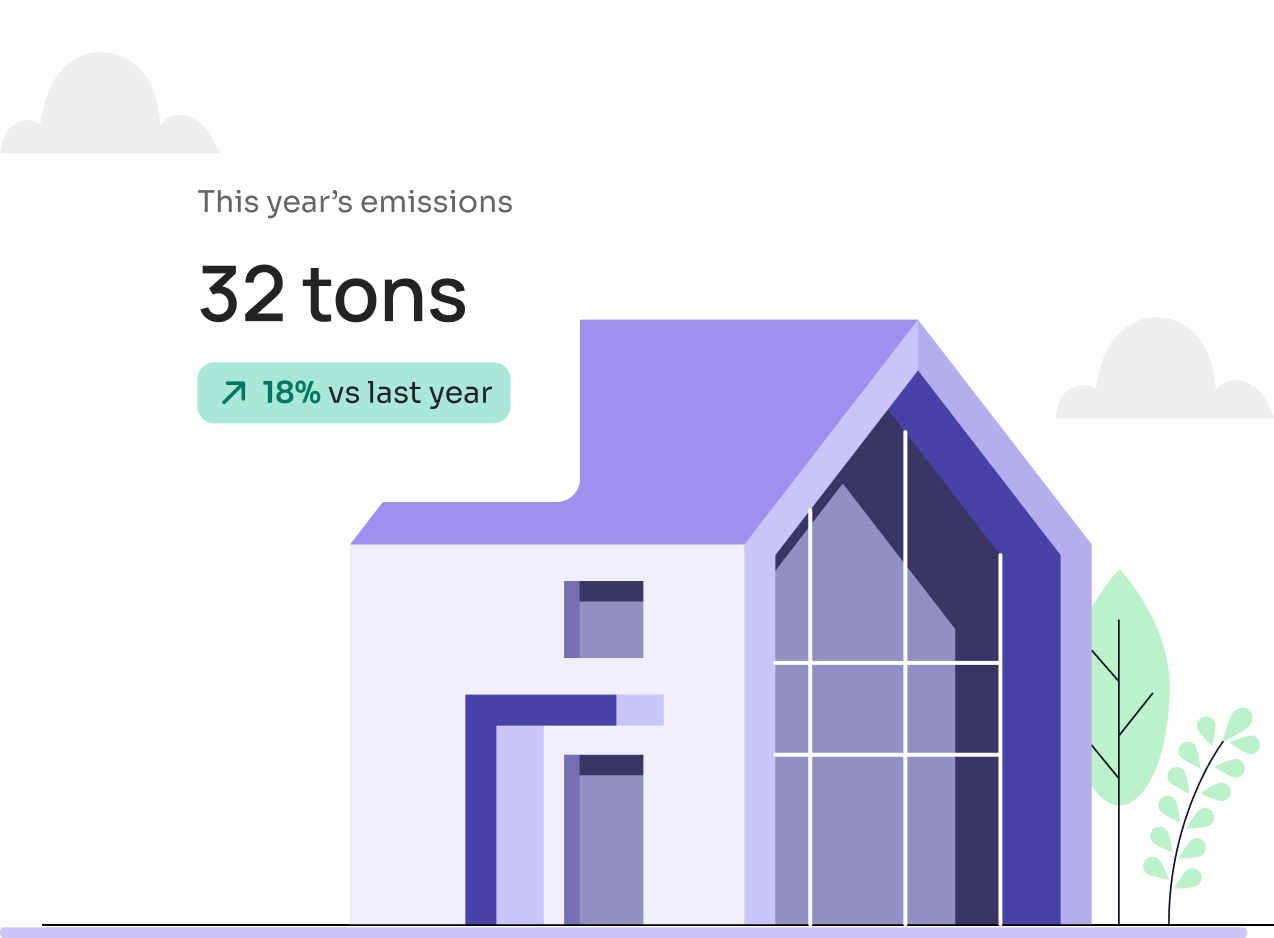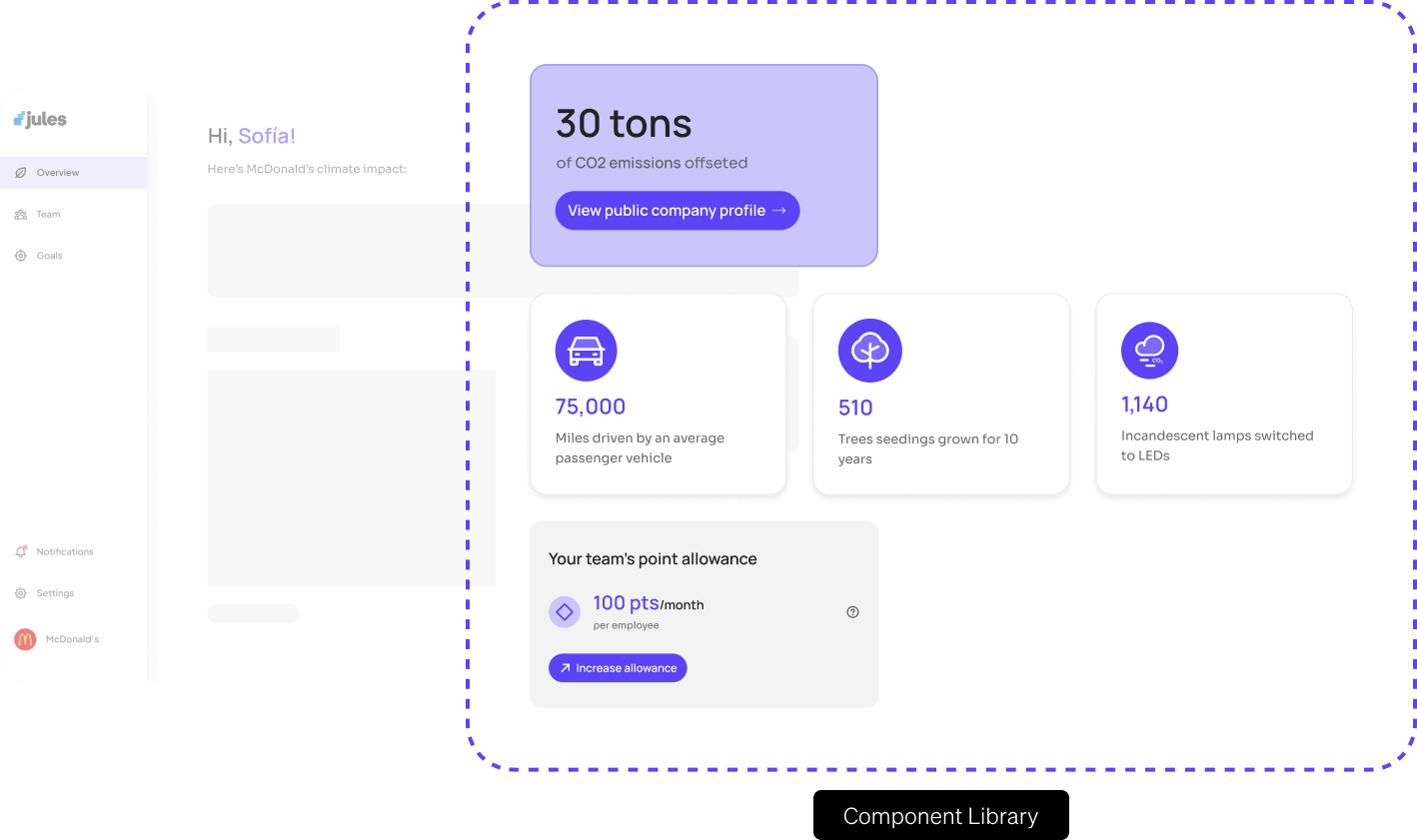 But, after spending time and resources on their initial product, Assad and Nolte aspired to realize this vision rapidly and efficiently. Here's where the beauty of adaptability came into play. Drawing an analogy from Lego or Tetris, the strategy involved repurposing the already-existing frontend components from Meet Jules' previous dashboard. By effectively reusing these blocks, the primary objective was to minimize development time, facilitating a swift MVP launch to gauge market validation – a crucial step for potential future investments.
Development Phase: Agile Execution in Record Time
Armed with a clear strategy, the Nolte team set off with a new ambitious task of bringing this new MVP to life in just one month. The first step was a deep dive to discern the core user needs, leading to the creation of a well-defined backlog. This backlog was carefully tailored to fit the aggressive timeline, ensuring it encompassed essential features while also gathering vital insights for market validation.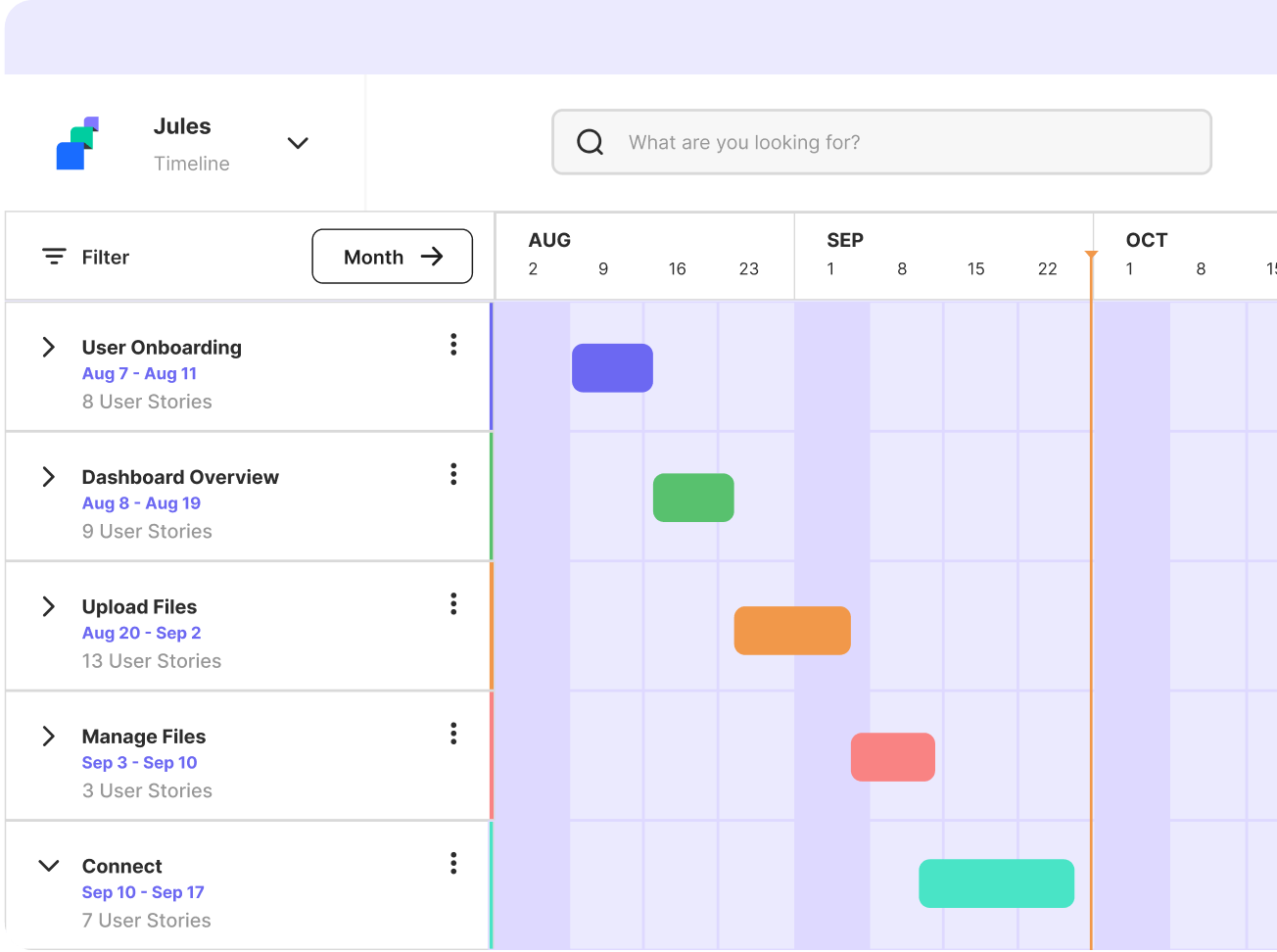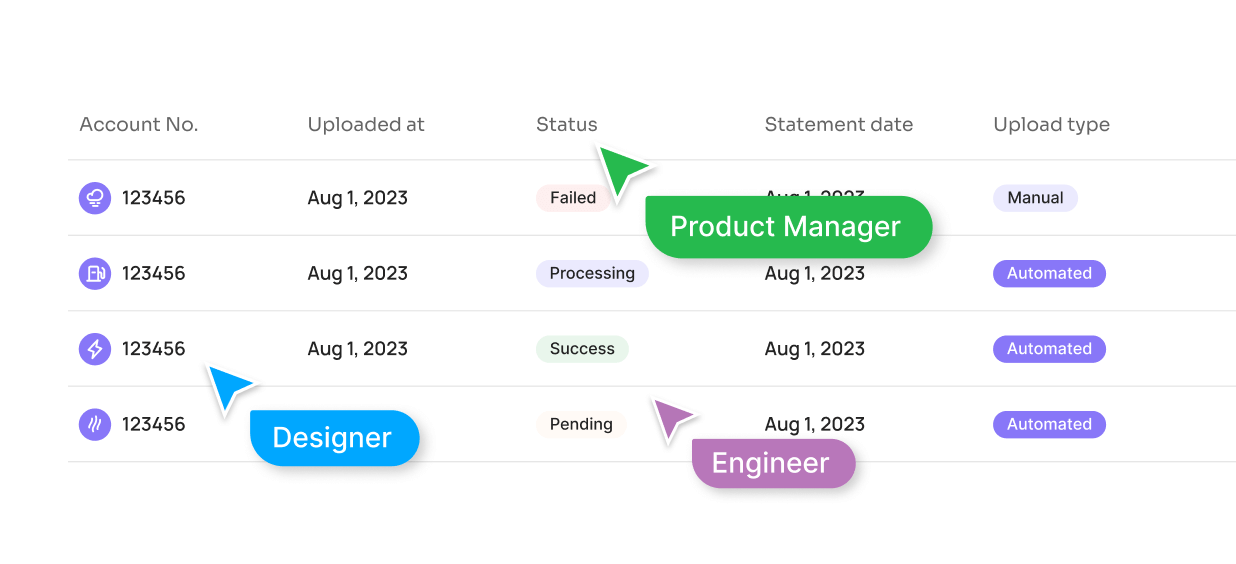 The development team, though lean, was all hands on deck. Comprising a product manager, a product designer, and two engineers, each member played a pivotal role. Notably, the inclusion of a designer was paramount. Even though many components were being reused, having a design expert ensured that the interface was curated and aligned seamlessly with end-user expectations.
Operating the "Nolte way," the team championed collaboration. Adhering to Agile methodology, they meticulously penned user stories, validated requirements, and conducted iterative testing. This dynamic and interactive approach was not just about speed; it was about ensuring that when Jules' new product hit the market, it did so with clarity, purpose, and precision.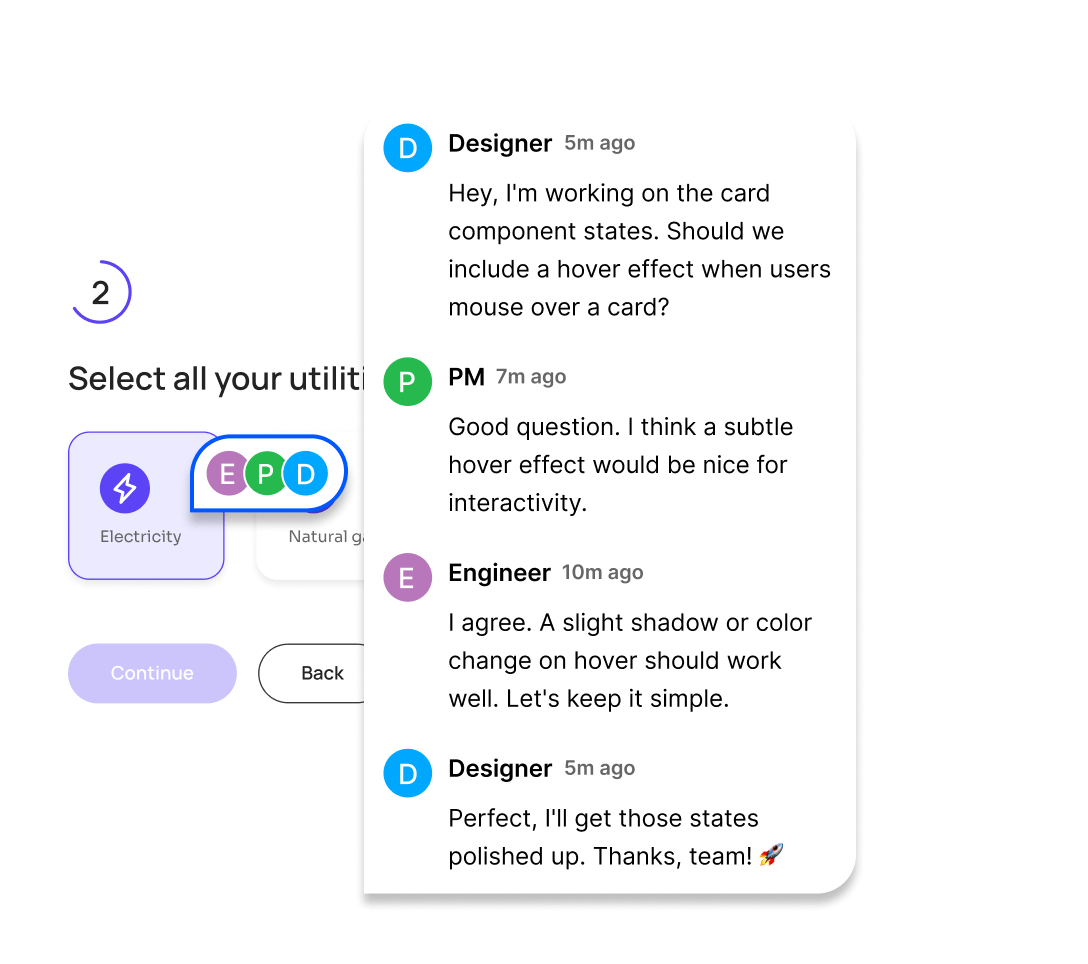 MVP Key Features and Benefits
With this newfound focus, Jules became an essential tool for the real estate world—a web platform designed to demystify emissions reporting. It presented a two-fold promise:
Simplicity and Efficiency: Users could unlock automated, precise calculations for their properties. With a user-friendly dashboard, tracking emissions across varied sources, from electricity to steam, became hassle-free.
Compliance and Savings: Jules ensured that property managers could meet Local Law 97 requirements and reduce the risk of fines, positioning sustainability as a feasible and fiscally responsible choice.
Moving Forward with Jules
As Jules continues to evolve and adapt to the needs of modern real estate professionals, a range of innovative features are under development, set to enhance the already transformative platform. These additions promise to elevate users' experience and drive even more efficient, accurate, and actionable emissions reporting.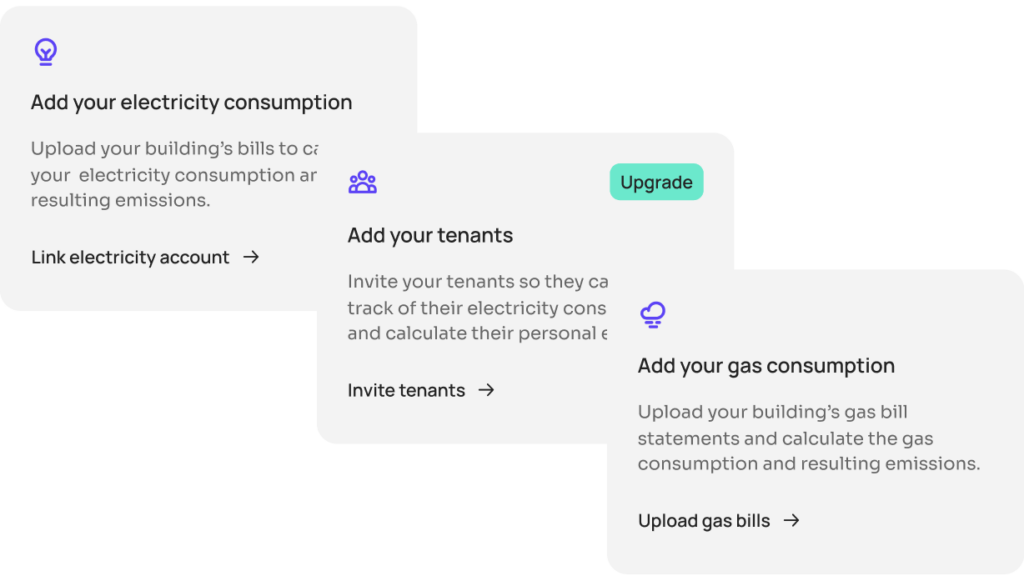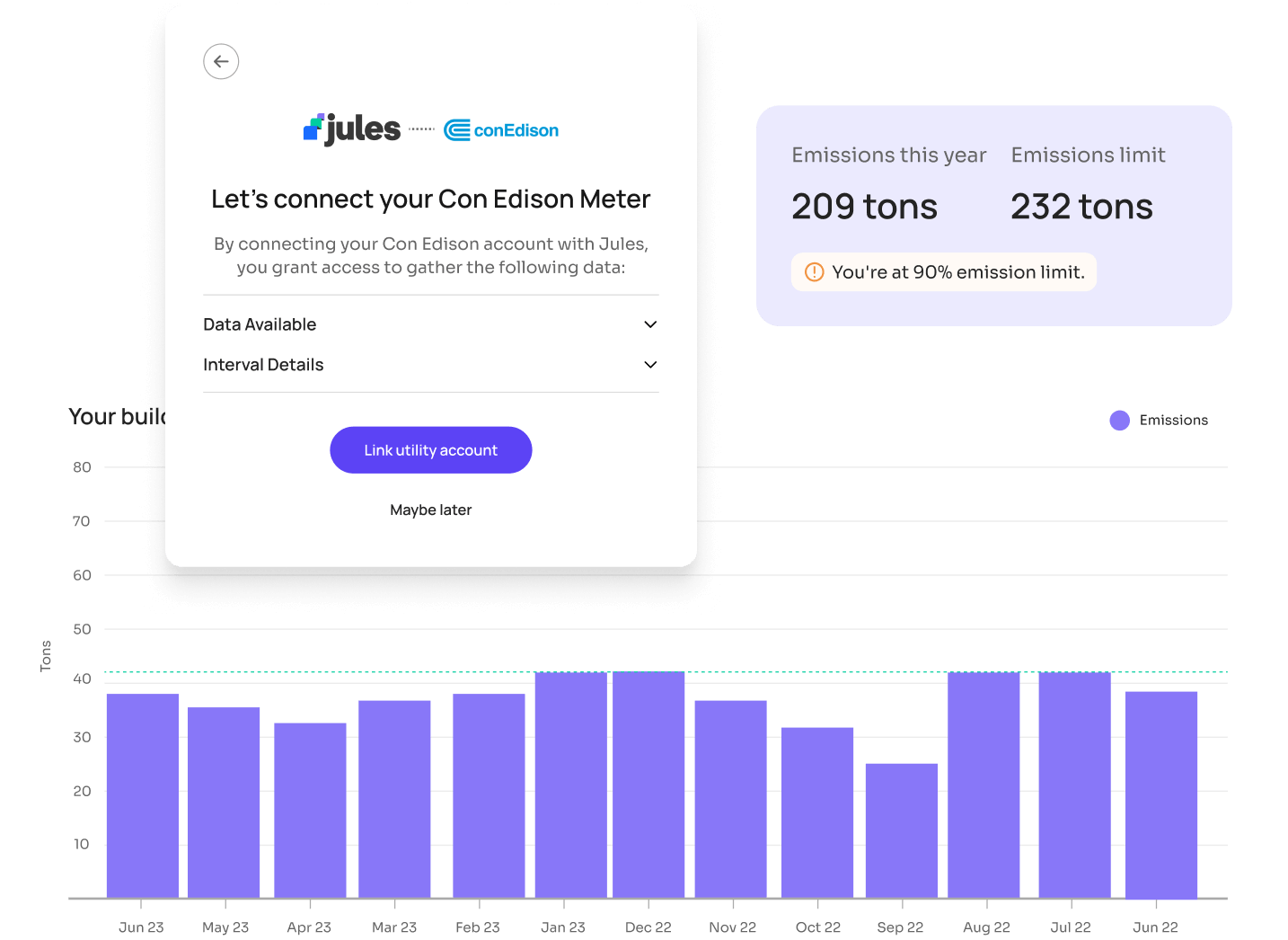 Jules is on a journey to offer an unparalleled suite of capabilities. Here's a glimpse of the forthcoming features designed to streamline your emissions management:
Historical Data Analysis: Dive deep into past energy consumption trends, pinpointing opportunities for enhanced efficiency.
Real-Time Electricity Tracking: Integrate directly with your electricity meters, providing a live view of your building's energy use.
Tenant Mobile App: Empower your tenants with a dedicated app. From connecting submeters to delivering real-time energy insights, tenant engagement is poised to reach new heights.
Customizable Alerts: Stay proactive with alerts tailored to your needs, whether it's a sudden surge in emissions or crucial reporting deadlines.
Smart Carbon Offsetting: Beyond tracking, our platform will guide you towards impactful offsetting solutions, ensuring a proactive approach to emissions reduction.
User Management & Roles: Streamline team collaboration with a flexible and intuitive user access system, ensuring every member operates with the right permissions.
How Will This All Come Together?
1. Initiate with Precision
The user will start by inputting foundational building details. This ensures the system provides precise calculations tailored to your property's unique profile.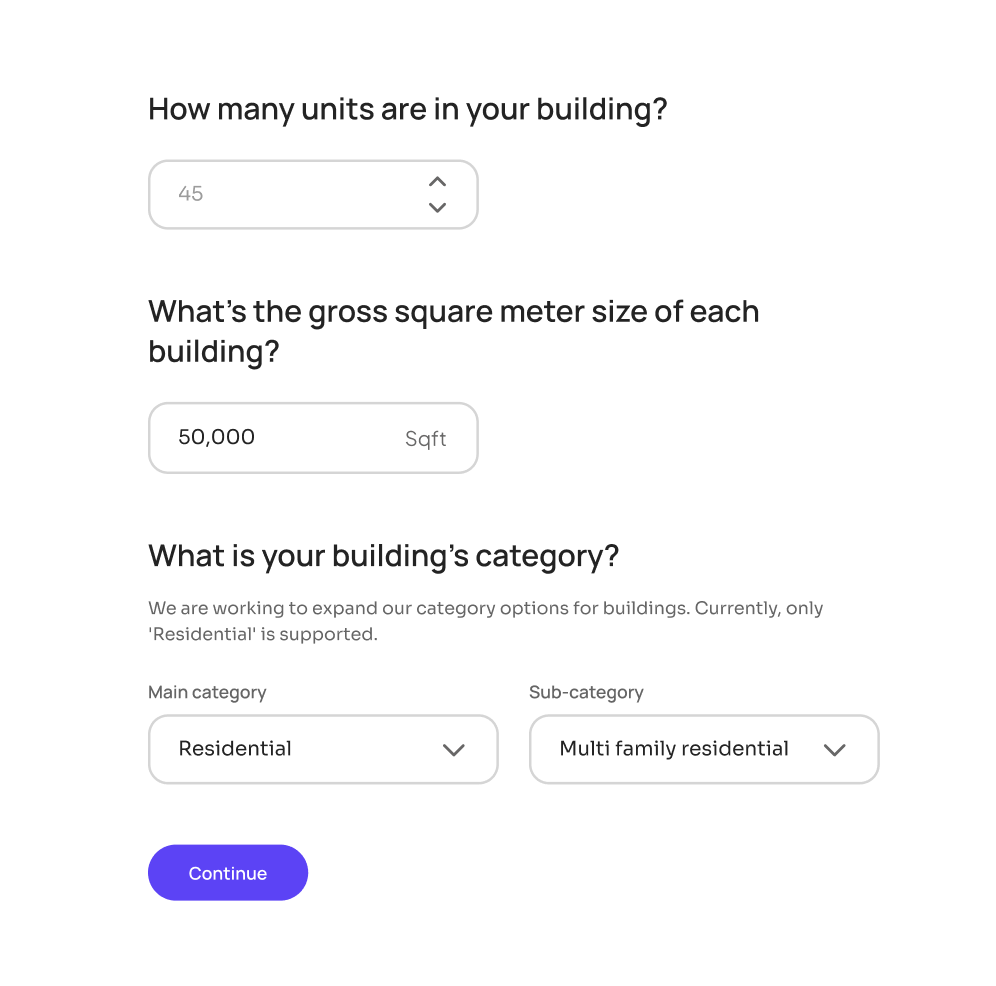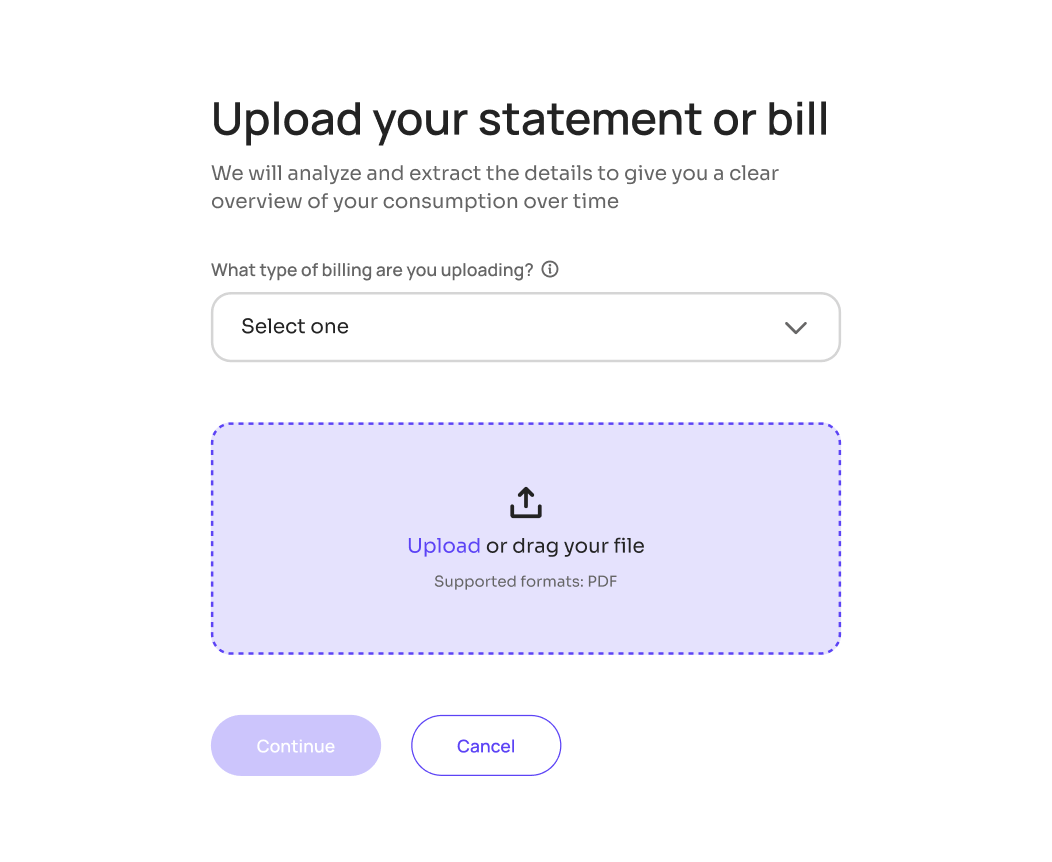 2. Simplified Data Integration
Gone are the days of manual data entry. Simply drag and drop utility invoices, and Jules will extract the necessary information seamlessly.
3. Effortless Reporting
With just a few clicks, generate a comprehensive report that aligns perfectly with New York's Local Law 97 requirements.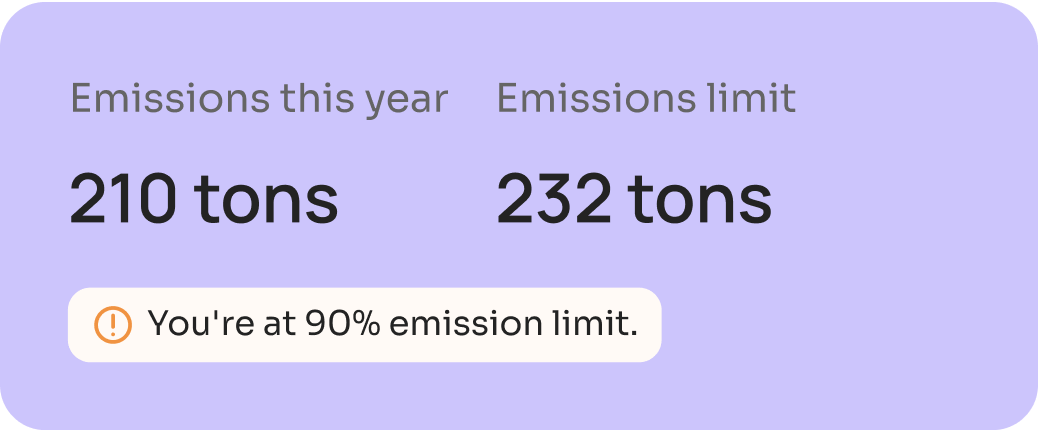 The advancements under development at Jules are not just features; they represent a commitment to revolutionizing how real estate professionals approach sustainability. As we look forward to their release, we're excited about the immense potential they hold in making urban living greener and more responsible.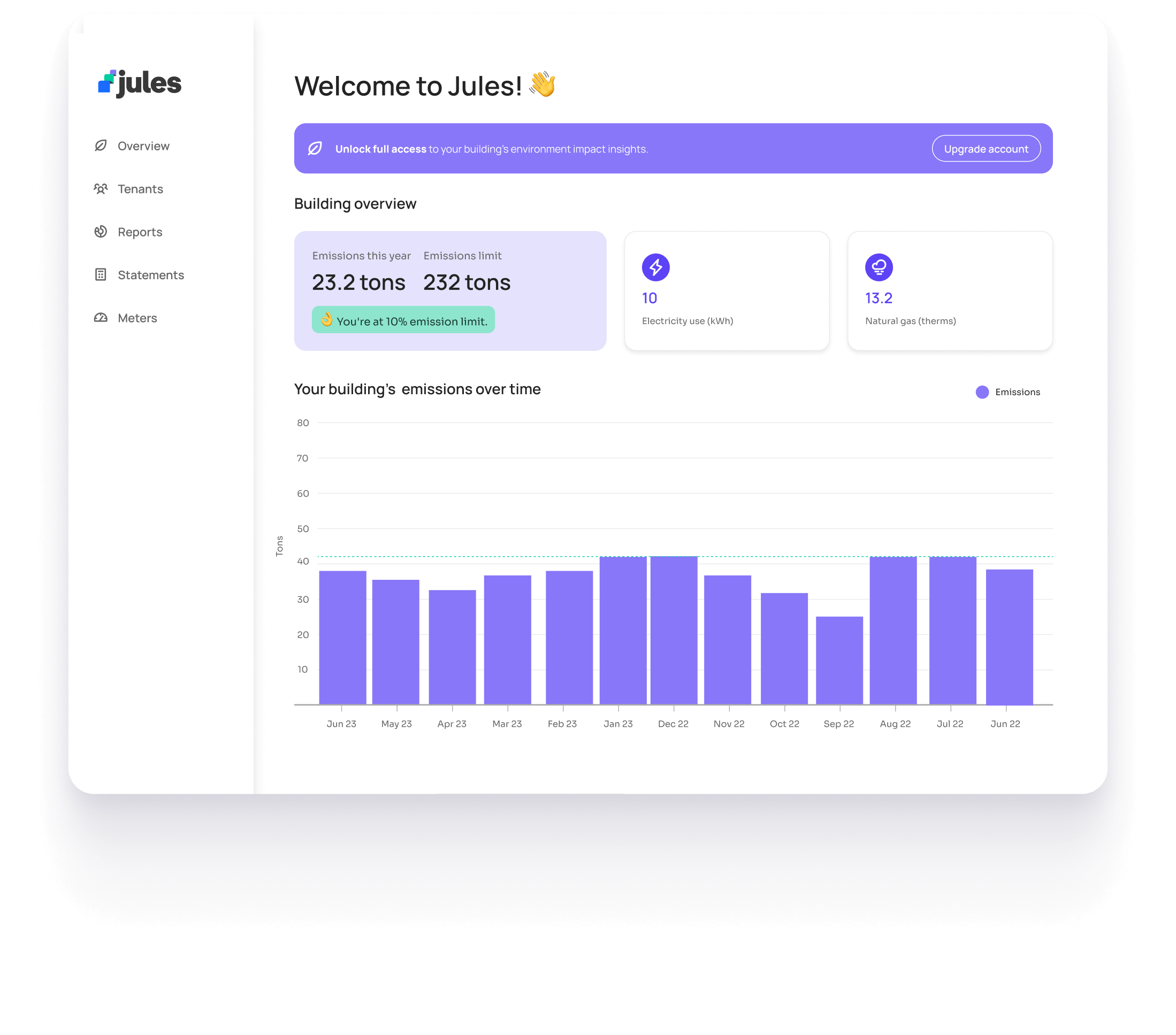 Positioning Jules: Bridging Market Needs with Climate Consciousness
The urgency of climate change, coupled with the rising demand for sustainable solutions in real estate, has cast a spotlight on innovations like Jules. Since its inception, Jules has not just addressed the market's call for simplified emissions reporting but has also taken significant strides in advancing climate action at the property level. The free-of-charge model for the initial emissions reporting, complemented by the promise of future emission reduction tools, demonstrates Jules' commitment to accessibility and sustainability.
Furthermore, Jules boasts a cutting-edge parsing algorithm that guarantees meticulous data extraction from utility bills, ensuring accuracy at every step. The platform's scalability is evident in its capacity to manage an extensive range of utility bills, whether a single document or an extensive collection. Moreover, the addition of offsetting functionalities empowers users to take direct action, offering an avenue to invest in third-party verified environmental initiatives.
Nolte's partnership with Jules embodies a shared vision of addressing critical environmental challenges through innovative tech solutions. From the get-go, we were motivated by the platform's potential to transform the real estate sector's approach to carbon emissions. The journey was marked by a comprehensive understanding of the property managers' pain points, iterative enhancements based on real-time feedback, and crafting an identity that resonates with sustainability. We take immense pride in contributing to Jules' mission, laying the foundation for a more sustainable urban landscape, and catalyzing the transition to a low-carbon future.
Together we launch!
Your success is our success. We are on a mission to help generate $700B in valuations for Nolte portfolio companies by 2030.
There's one thing we ask, though. We have to share a brain and heart. From wins and failures, we have learned that ethos determines collaboration success. So we have crafted ours and expect our partnerships to live up to it.
In return, we help you launch, grow and scale with peace of mind.
Austin Texas
2021 Guadalupe St #260
Austin, TX 78705
---
Mexico City
Amsterdam 255 #217
Hipódromo Condesa,
Cuauthémoc, 06100 CDMX